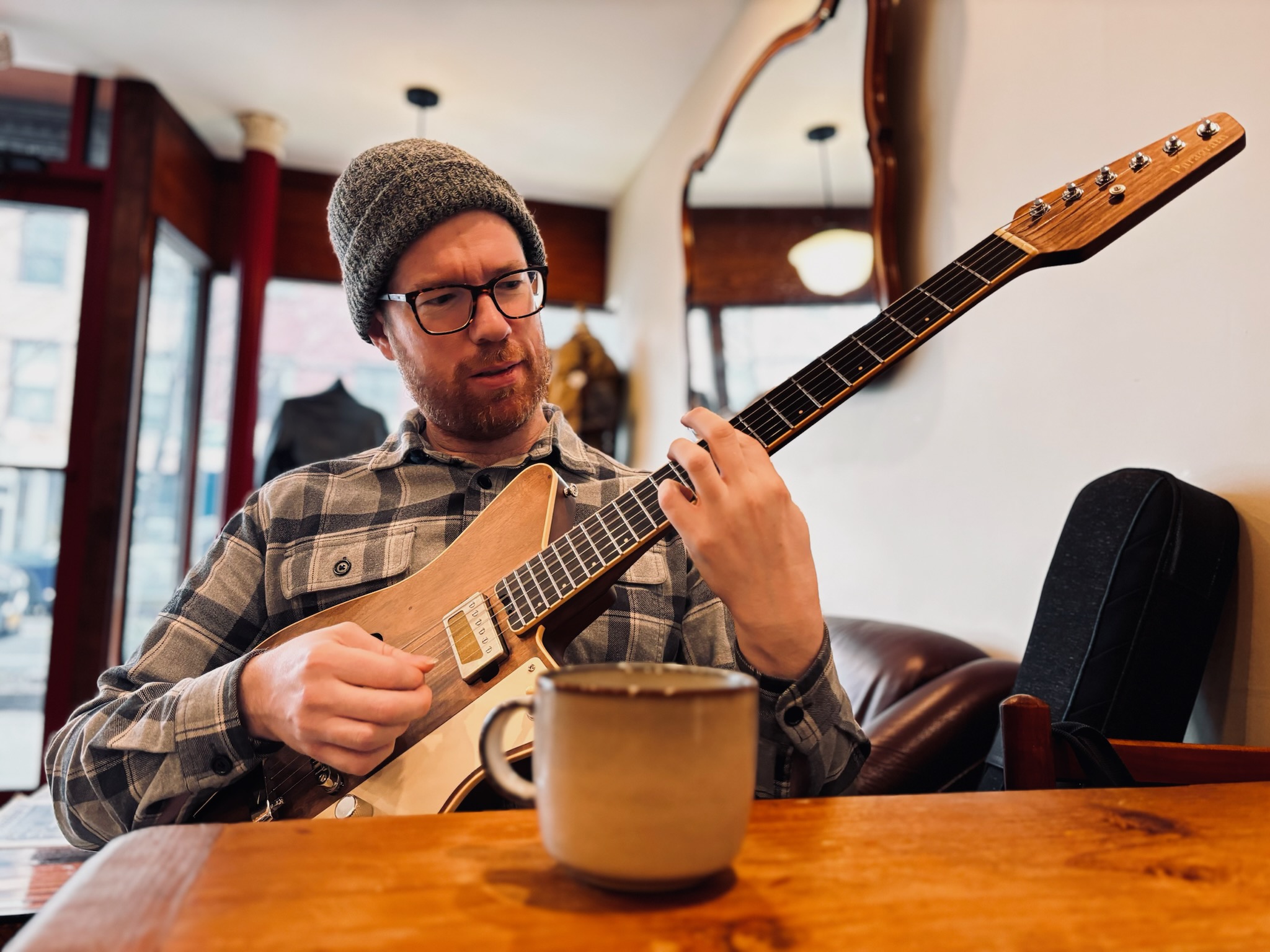 "Nerdly-but-fiery" - The Arcata Eye

Max Kutner is a guitarist and composer originally from Las Vegas, NV and currently based in Brooklyn, NY. As an instrumentalist, Max's focus is on new works for the electric guitar as well the promotion of electric guitar in new performance contexts. His compositions have been featured in showcases at CalArts and the Wulf, television station KCET and radio stations KPFK (Los Angeles, CA), FRSC (Santa Cruz, CA), KCBS (Seattle), KBOO (Portland, OR), KMHD (Portland, OR), WFMU (Jersey City, NJ), KXLU (Los Angeles, CA), WVUD (Newark, DE), WCBN (Ann Arbor, MI), KSDS (San Diego, CA) and KUNR (Reno, NV).

Max was the lead guitarist of the final line-up of the Magic Band featuring original member John "Drumbo" French which performed the music of Captain Beefheart around the world. He has performed with the Oingo Boingo Former Members, the Grandmothers of Invention (Frank Zappa alumni Don Preston, Bunk Gardner, Napoleon Murphy Brock) and also in the bands of Alphonso Johnson, Ulrich Krieger, Matt Darriau, Frank London, Henry Kaiser, Daniel Rosenboom and Lili Haydn.

Max has also produced, programmed and curated performances in California and New York. He was responsible for developing and performing multiple instruments in the U.S. premiere performance of Mike Keneally's "The Universe Will Provide" (REDCAT) in November 2011 and has also participated in West Coast premiere performances of pieces by Sofia Gubaidulina (REDCAT) and Ulrich Krieger (Beyond Baroque). In the summer of 2021, he was the recipient of the City Artist Corps grant through New York Foundation of the Arts and he used the award to fund and program the inaugural "Whatever Guitar Festival" in Brooklyn, NY.

From 2012-13 and again from 2017-18, he taught on the Adjunct Faculty of CalArts as guitar instructor for non-majors. From 2015-2018, Max served as the Artist Liaison for the Los Angeles-based creative music label, Orenda Records. He has given clinics and/or workshops at the University of Minnesota (Minneapolis), University of Nevada (Reno), Idaho State University, Humboldt State University and University of Northern Colorado. He continues to maintain an active private studio teaching bass, guitar, theory and composition.

Max participated in an upcoming album of John Cage's indeterminate works for Mode Records and has previously been a soloist with the University of Nevada Chamber Choir and Guitar Ensemble. Max has also performed as lead guitarist for Truckee River Community College (TMCC) productions of HAIR and RENT and has contributed to the sound design of a CalArts adaptation of the Eugene O'Neill play "Desire Under the Elms". In 2021, he contributed soundscapes to the Nomad Theatre (NYC) piece "Butterfly Effect" and also performed on several songs for the Angel Band Project's "Songs of Survival" album which benefits survivors of sexual assualt in NYC.

In addition to his performance work, Max also composes for commercial film and hosts this work on http://maxkutnermusic.com. He currently also does orchestration and programming for various shows on Realm.

His debut solo work, "Disaffection Finds Its Pure Form", is a quasi-ambient process piece that features Kutner on 30 electric guitars simultaneously. It was jointly released in September 2017 through Silber Records and Records ad Nauseam. He followed that release with a collection of home recorded solo songs and improvisations entitled "Array" in January 2018. His third solo album, "rummagelore", was released in August 2019 on All Terrain Press. A fourth album of live solo improvisations entitled "World" was released in May 2020. "High Flavors", his first album under his name as an ensemble leader was released on December 2, 2022. Each of these albums are available to download and to stream via his personal Bandcamp page: http://maxkutner.bandcamp.com.

Additionally, he created a duo recording with Henry Kaiser entitled "Wild Courses" which was released in December 2018 and available on Iluso Records. Since 2015, Max has been a member of the prog-rock centered Android Trio alongside Eric Klerks and Andrew Niven which released its debut album "Road Songs" on Orenda Records in 2017 and followed up with a sophomore release entitled "Other Worlds" on Cuneiform Records in October 2021. Previously, he led the experimental jazz trio Evil Genius (2012-18), the avant folk group, The Royal US (2011-18) and the mutant Klezmer septet known as Bubbeleh (2010-16).